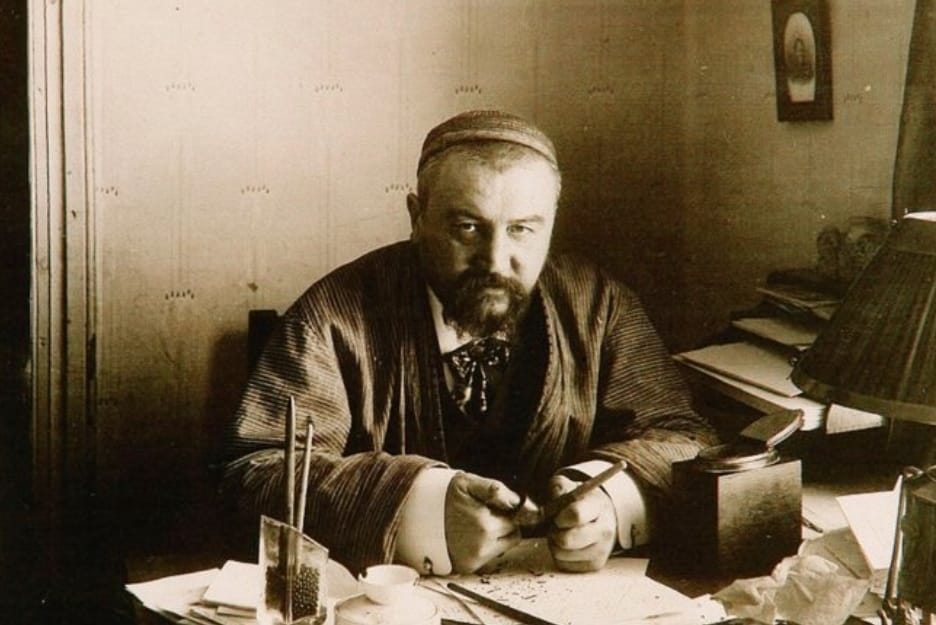 Aleksandr Ivanovich Kuprin (7 September 1870 – 25 August 1938) was a Russian writer best known for his novels The Duel and The Pit, as well as Emerald, and The Garnet Bracelet – the latter made into a 1965 movie.
Alexandr Kuprin was born in Penza to Ivan Ivanovich Kuprin, a government official, and Liubov Alekseyevna Kuprina. His father was Russian, and his mother belonged to a noble Volga Tatar family who had lost most of their wealth during the 19th century.
Alexandr had two sisters, Sofia and Zinaida. In 1871 Ivan Kuprin, aged 37, died of cholera, and three years later Alexander with his mother moved into the Widows' Home in Kudrino, Moscow, a period reflected in his tale «A White Lie».
In 1876 he entered the Razumovsky boarding school, which caused him a lot of what he later referred to as 'childhood grievances', but also brought about his riotous nature and made him popular among peers as fine storyteller.In 1880, inspired by Russia's victory in the Russo-Turkish War, Kuprin enrolled into the Second Moscow Military High School, turned into the Cadet Corps in 1882.Several of Kuprin's autobiographical stories, like «At the Turning Point» (1900), «The River of Life» (1906) and «Lenochka» (1910), refer to this period.
«The memory of the birching at the Cadet Corps stayed with me for the rest of my life,» he wrote not long before his death. Yet it was there that he develop an interest in literature and started to write poetry.
Most of his thirty youthful poems date from 1883–1887, the four years when he was in the Cadet Corps. During this period, Kuprin also made several translations of foreign verse.In the autumn of 1888, Kuprin left the Cadet Corps to enter the Alexander Military Academy in Moscow. In the summer of 1890, he graduated from the Academy and was posted to the 46th Dnieper Infantry Regiment (which he chose at random) where he spent the next four years.
Kuprin's few years of military service saw the publication of a short novel In the Dark (1893) and several short stories, mostly the artful studies of abnormal states of mind («A Slav Soul», «Madness» and «The Forgotten Kiss», all 1894). Only «the Inquiry» (1894), his first publication to arouse critical comment, was concerned with the army, starting a series of Russian army-themes short stories: «A Place to Sleep» (1897), «The Night-shift» (1899), «Praporshchik» (1897), «The Mission» (1901) which finally resulted in his most famous work, The Duel.
Apart from his growing dissatisfaction with army life, the publication of «The Enquiry» was probably the major reason for Kuprin's resignation in the summer of 1894.After retiring from the service, without any definite plans for the future, or «any knowledge, academic or practical» (according to «Autobiography»), Kuprin embarked upon a five-year-long trip through the South-West of the country.
He tried many types of job, including dental care, land surveying, acting, being a circus performer, psalm singer, doctor, hunter, fisher, etc., all of these subsequently reflected in his fiction. All the while he was engaged in self-education and read a lot.
In 1901 Kuprin moved to St Petersburg and settled there. In St Petersburg he found himself in the centre of Russian cultural life. He became friends with Anton Chekhov whom he regularly corresponded with up until the latter's death in 1904, often seeking his advice. Kuprin's friendship with Ivan Bunin would last almost forty years, continuing in emigration.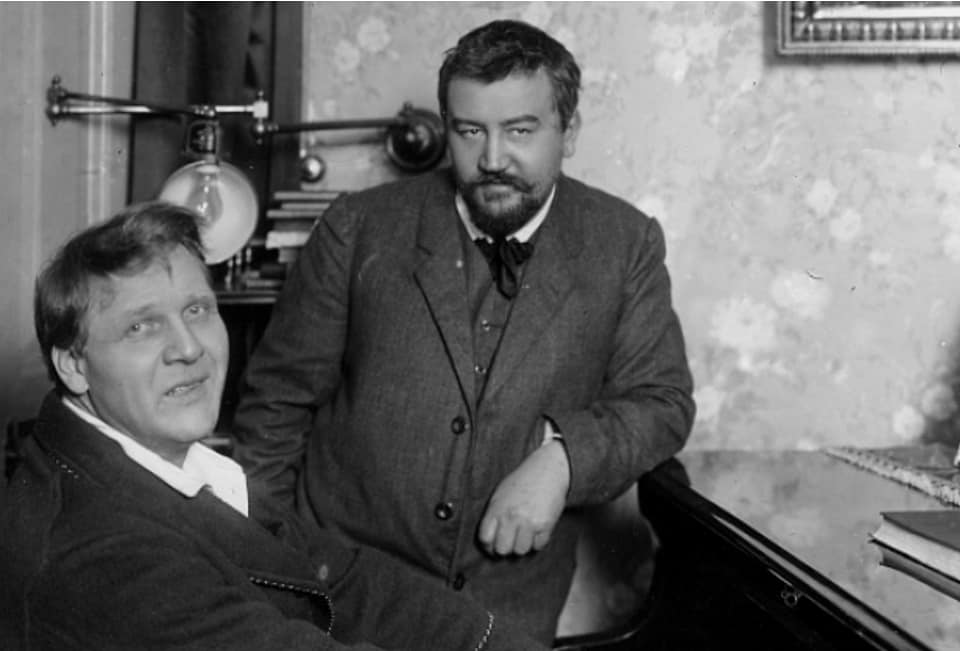 Fyodor Shalyapin and Alexander Kuprin
Kuprin wrote less between 1902 and 1905 than he had in the provinces but, according to Luker, «if the quantity of his writing was reduced – some twenty tales in all – its quality was incomparably higher… More conscious now of the blatant contrasts prevalent in Russian society, he turned his attention to the plight of the 'little man' thus following the best traditions of Russian literature.
» Among the noticeable stories were «At the Circus» (1902) praised by Chekhov and Tolstoy, «The Swamp» (1902), linked thematically with the Polesye cycle and «The Jewess» (1904), demonstrating Kuprin's profound sympathy for this persecuted minority in Russian society.In 1904 Kuprin started working on The Duel. This novel, conceived in his second year in the army, and commenting on the «horror and tedium of army life,» was published on 3 May 1905.
The creation of this novel was a cathartic experience for Kuprin. «I must free myself from the heavy burden of impressions accumulated by my years of military service. I will call this novel The Duel, because it will be my duel … with the tsarist army.
The army cripples the soul, destroys all a man's finest impulses, and debases human dignity… I have to write about all I have known and seen. And with my novel I shall challenge the tsarist army to a duel,» he informed his wife in a letter.
The Duel became the literary sensation of the year in Russia. In 1905 some 45.5 thousand copies were sold, a vast number for the early 1900s. The controversy this novel caused continued until 1917. Critics of the left welcomed The Duel as «another nail in the coffin of autocracy,» while their conservative counterparts condemned it as «perfidious assault on the ruling order.»
One officer even challenged Kuprin to a duel through a Petersburg paper, while a group of twenty officers sent Kuprin a letter in 1905, expressing their gratitude. The Duel, according to Luker, marked «the summit of Kuprin's career… assuring him immortality in the annals of Russian literature.
«From 1905 onwards Kuprin again became engaged in numerous non-literary fields. He put himself forward as an elector to the first State Duma for the city of Petersburg. In 1909–1910 he made an air balloon flight with a renowned sportsman Sergey Utochkin, then ventured into the Black Sea depths as a diver and accompanied the airman Ivan Zaikin in his airplane trips. In 1907 he divorced his first wife and married Yelizaveta Geinrikh (1882–1943), who in 1908 gave birth to their daughter Ksenia.
Among Kuprin's other work of the period are «Emerald» (1907), the most famous of his animal stories, «Sulamith» (1908), an ode to 'eternal love', autobiographical «Lenochka» (1910), and The Garnet Bracelet (1911), his famous 'doomed romanticism' novella where hopeless love finds its quietly tragic apotheosis. In October 1909 Kuprin was awarded the Pushkin Prize, jointly with Bunin.
In 1908 Kuprin started working on The Pit, his most ambitious and controversial work. The first part of this novelistic study of prostitution appeared in 1909, the second in 1914, and the third in 1915. Part I, as it came out, provoked widespread controversy, parts II and III were met with almost universal indifference. Kuprin, who could not decide, apparently, whether his novel should be a documentary or fiction, either oscillated between the two or attempted to combine them in an artificial way.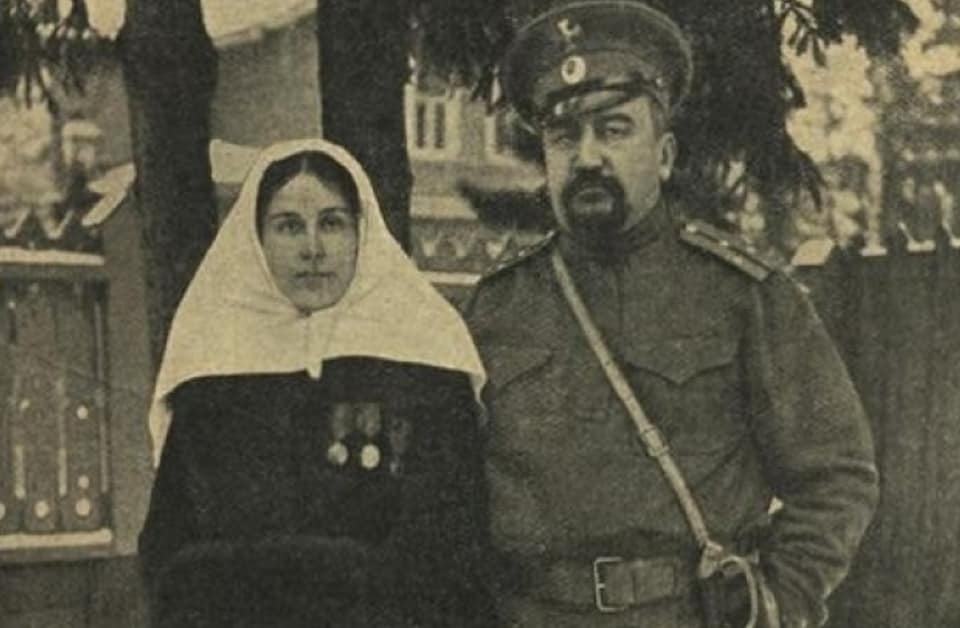 Kuprin and his wife during World War I
The Pit was Kuprin's last major work, and to many it signaled the decline of his creativity. His best-known 1912–1914 stories are «Black Lightning» and «Anathema», while his visit to the South of France between April and July 1912 gave rise to «The Cote d'Azur», the twenty sketches forming a cycle of travel impressions. In 1911 he moved his family to Gatchina, near Saint Petersburg.
The February Revolution found Kuprin in Helsinki, where he had gone on medical advice. Returning to Gatchina, he expressed his enthusiasm at the collapse of tsarism in a series of articles and in May started editing the newspaper SvobodnaiaRossiya (Free Russia), contributing also to Volnost (Freedom) and PetrogradskiiListok (The Petrograd Leaflet). While welcoming the freedom brought by the February Revolution, he foresaw the excesses that further upheaval might bring and warned against Russia's plunging into an orgy of bloodshed.
Kuprin in the 1910s
After half a year in Helsinki, his family sailed for France, arriving in Paris in early July 1920.The next seventeen years in Paris saw the decline of Kuprin's creativity and his succumbing to alcoholism. Grieved at his separation from Russia, he became lonely and withdrawn. The family's poverty made the situation worse. «I am left naked … and destitute as a homeless old dog,» Kuprin wrote to Ivan Zaikin, an old friend. All this combined to hinder his writing.
«The more talented a man is, the harder is for him life without Russia,» Kuprin told a reporter in 1925.[Kuprin's nostalgia explains the retrospective quality of his work in emigration. He returned to familiar themes from his earlier writing and dwelled on personal experiences linking him with the homeland he has lost.
Alexander Kuprin's grave
By 1930 Kuprin's family was in poverty and debt. His literary fees were meager, heavy drinking dogged his Parisian years, after 1932 his sight began to deteriorate, and his handwriting became impaired. His wife's attempts to establish a book-binding shop and a library for émigrés were financial disasters. A return to the Soviet Union offered the only solution to Kuprin's material and psychological difficulties.
In late 1936 he finally decided to apply for a visa. On 29 May 1937, seen off only by their daughter, the Kuprins left for Moscow. On 31 May they were met there by representatives of writers' organisations and installed in the Metropole Hotel. In early June they moved to a dacha owned by the Soviet Union of writers outside Moscow, where Kuprin received medical attention and rested till the winter.
In mid-December he and his wife moved to an apartment in Leningrad.Years in Paris had broken his health and transformed him into an old man. The tragic change was noticed by the writer Nikolay Teleshov, his friend of the early 1900s. Visiting Kuprin shortly after his arrival, Teleshov found him confused, rambling, and pathetic. «He left Russia … physically very robust and strong,» he wrote later, «but returned an emaciated. … feeble, weak-willed invalid.
This was no longer Kuprin – that man of outstanding talent – it was something… weak, sad, and visibly dying. Later Bunin insisted that Kuprin's role was purely passive: «He did not go to Russia – he was taken there, very ill, already in his second childhood,» he wrote.
In January 1938 Kuprin's health deteriorated. By July his condition was grave; already suffering from a kidney disorder and sclerosis, he had now developed cancer. Surgery did little to help. Alexander Kuprin died on 25 August 1938.Kuprin's position in the history of Russian literature is highly significant, if not unique. Born into an age overshadowed by the great Russian novel, which had reached its zenith in the 1860s. he turned to the short story as the genre suited both to his own restless temperament and to the manifold preoccupations of his generation…
With his contemporaries Chekhov, Gorky, and Bunin. he brought the genre of the short story to an efflorescence without parallel in Russian letters. What he conceded in restraint to Chekhov, conviction to Gorky, and subtlety to Bunin, Kuprin made up for in narrative pace, construction of plot, and richness of theme. These latter qualities, coupled with his abiding interest in the human soul, make him still very readable today.
Prepared by Svetlana Maksimova