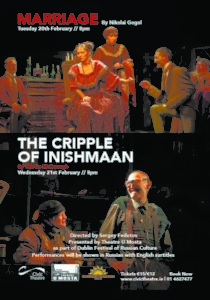 Phantasmagoria
Nikolay Gogol
Direction and scenography – Sergey Fedotov.
Instead of the social comedy there is a phantasmagoria with wonders, incredible logic and unbelievable actions.
Kochkarev is an imp who creates diabolic things on the stage. Strange visions on the stage scare and excite: when
the closet door opens with scratch and Steven quietly falls there or when in the window dead-pale face appeared,
may be even devil's face. Gogol's mysticism concludes with gogol's loneliness theme and man hopelessness and
perceived defencelessness in the face of world, of life, in the face of it's eternal temptetions and contradictions.
"Nowadays it is well known that Gogol is a mystical writer, but in 1992 for many people the brave interpretation of S.Fedotov was surprising. Performance fell out the usual frames. Especially the final scene where Kochkarev fell into
the earth". Alexey Melentiev, "Zvezda-online".
Date of premiere – 1992.
Time – 2.20 with an intermission.
---
Irish comedy
Martin McDonagh
Directing and scenography — Sergey Fedotov
In 2010, the performance became a laureate of the National Award "GOLDEN MASK". The theater succeeded in the
embodiment of the strange, funny and touching story of McDonagh as truly Irish and in impudent and funny
composing their characters as if Perm actors themselves had experienced the whole of Ireland's history as if they had
absorbed it through crazy river-dance and lyrical Irish ballads. Ishishman Island is one of the most mysterious and
sacred places in Ireland. The unhurried world of strange and ridiculous wierdoes -yinshman people literal
y explodes when a film crew from America comes to a neighboring island. Inishman people are visited by the illusive
and dangerous dreams of Hollywood, following which many of them want to sail away. But it is achieved only by the
Cripple Billy … " A. Sokolyansky, theater critic, art critic, journalist." A. Sokolyansky, theater critic, art critic,
journalist.