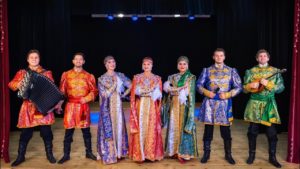 A folk group Lubo-Milo ("A Pleasure and Delight"), director Ekaterina Brinchugova, was established in 2014 under the aegis of the Department of Culture, Moscow City Government. All members of the group are professional musicians graduated from the Gnessin's Russian Academy of Music, the Schnitke Moscow State Music University and the Moscow Institute of Culture. The group has won numerous Russian and international awards. Lubo-Milo has performed in Russia and abroad, toured in Greece, Laos, Montenegro, Kazakhstan, Latvia, Lithuania, France and Serbia.
The group is very active and has been taken a part in the many Moscow city cultural events, festivals and competitions. The artists are frequent quests on the Russian TV. They participate in different projects, including The Bluebird on Russia-1 channel, the 1st channel's Good Morning and The Wheel of Fortune, NTV's Full Stop, OTR's Calendar, TVC's The Frame of Mind and many more. The group has received a special award of the Department of Culture of Moscow City Government in 2017.
Versatile programmes of an outstanding quality allowed Lubo-Milo to achieve a very high position among the folk groups. Their repertoire includes lyrical, dance, Russian, Cossacks and Ukrainian songs performed live and in a polyphonic manner. While the folk and lyrical songs show warmth and emotions, the vigorous dance songs present the Russian dash and a big Russian heart. The group brings some contemporary elements to the traditional songs at the same time preserving its original sounds.
The musicians capture the viewer's imagination by virtuoso performing skills when playing a variety of instruments like concertina, accordion, balalaika, domra and guitar. Every performance by Lubo-Milo includes some elements of choreography and stunts. The Cossack's programme shows the skills of sable and whip flanking.
The colourful and bright costumes are of an extraordinary beauty. The group is in possession of 15 sets of costumes for different programmes. The stunning performances by Lubo-Milo conquered the hearts of the older and the younger audience alike. All members of the group are young, beautiful, lively and most of all highly professional artists who create unforgettable pieces that stay in the memory of the audience for a very long time.